In a world plagued by green-washing, we take immense pride in "walking the talk" in our winegrowing. After two decades, we're still growing sublime, hand-crafted, organic, natural Pinot Noir wine that is an authentic representation of our terroir.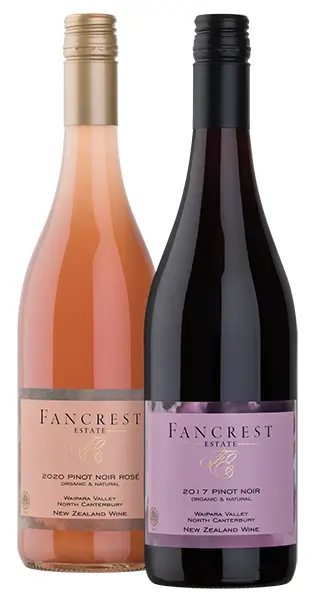 Fancrest Estate is one of the smallest vineyards in the Waipara Valley. Unusually, we grow only one variety, Pinot Noir, with a minuscule fraction of inter-planted Pinot Gris.
We have always been and intend to remain, family owned and run. Di does the lion's share of the work, while Ian holds down a day job in the city.
We are driven by our love of premium-quality wines that express their place of origin, and are devoted to bringing our own authentic wines to you. Organically grown, hand-harvested and mindfully sorted for the best quality, our grapes provide everything we could ask for to create our natural organic wines.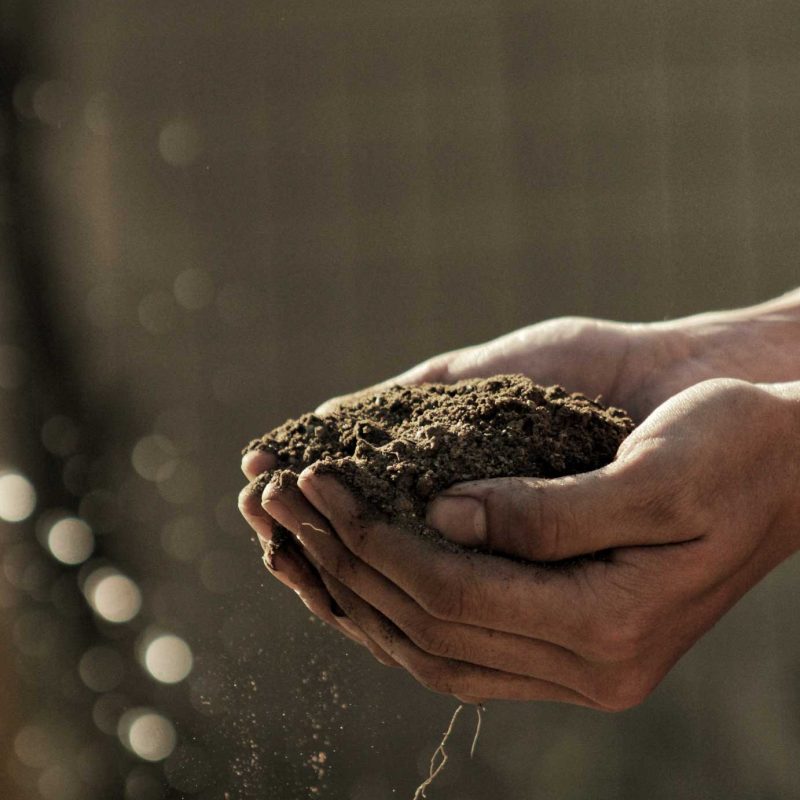 Unlike our winegrowing brethren in the Old World, we haven't had multiple centuries to study the intricacies of our terroir—the sense of place created by the interaction of soils, climate, and topography.
Since we broke ground in 2003, we have been working hard to determine the best way to grow Pinot Noir here, and we are continually refining our vineyard as our knowledge and experience grow.
We have been "no-till" from the outset, allowing "weeds" to fulfil their natural roles in building soil structure as part of the soil food web.
Today this principle is at the core of Regenerative Agriculture. 
Also, we run our own flock of Wiltshire sheep and a fold of Highland cattle that help out with grazing, leaf plucking and pruning in the vineyard.
Fancrest as far as we know is the only vineyard in the world to incorporate cattle into pruning vines. Their natural aptitude for browsing rather than grazing makes the Highland breed uniquely suited to integration into our holistic model.
Site Specific Characteristics​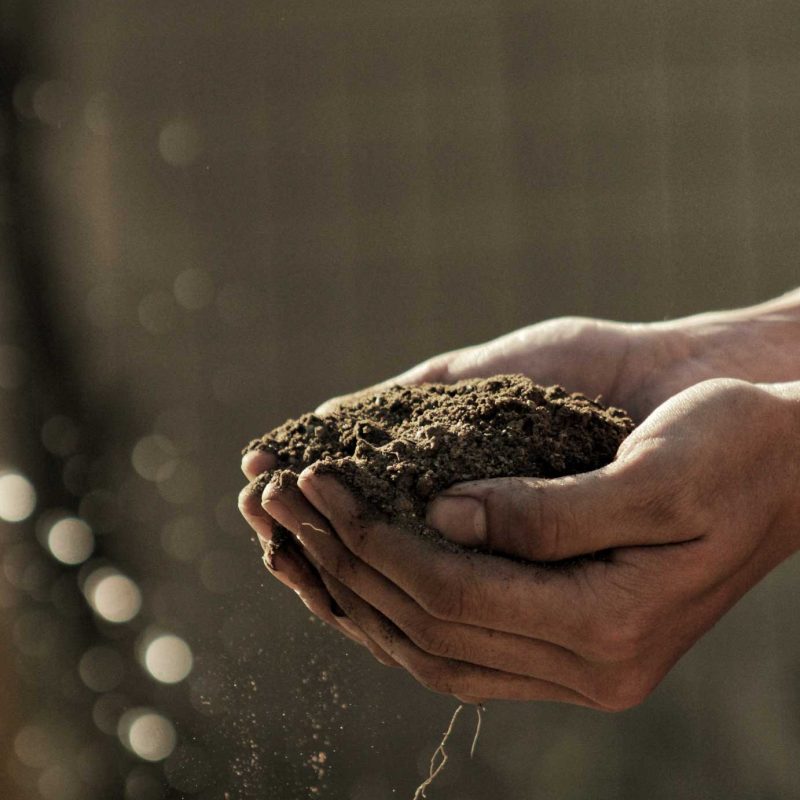 "The thing that defines our style is that we're about allowing Pinot Noir to shine; helping it be the very best, most authentic expression of this fascinating variety."

– Diane Holding, Founder, Owner and Winegrower
Mindfulness
of the Environment
We live on the vineyard so we are extremely mindful of just how much we depend on our surrounding, just as it depends on us.
That's why we grow our produce organically and sustainably.
We were part of the Green Revolution, long before it became fashionable. Over the past two decades our focus has been on reducing our carbon footprint by sequestering soil carbon; something we're really proud of.

North Canterbury, particularly the sub-regions of Ōmihi and Waikari, is, without question, the most exciting wine-growing region in Aotearoa New Zealand (especially in terms of its terroir). North Canterbury comprises a cluster of small, largely independently owned vineyards quietly working away at finding out what their place has to say through their wine.
These winegrowers tend to have, in common, a determination to do the small and unglamorous things very well. The leading names tend to follow organic and/or biodynamic and regenerative farming practices, giving priority to the quality of fruit and the longevity of their vineyards.
This obsession with terroir and their investment in soil health makes huge sense when we consider the potential of those soils to produce remarkable wines.
Inspired by the hallowed vineyards of Burgundy in France, Ian and Diane Holding, owners of Fancrest Estate, began their ambitious project with a search for a cool, dry, growing region and limestone-rich soils.
Not an easy task as many of the best soils Di identified on old soil maps either had no access to water or were way off the beaten-track or were orientated away from the north.
North Canterbury, and Omihi and Waikari in particular, are uniquely endowed with exactly the limestone soil Pinot Noir likes and a semi-arid cool-climate.
But great soil, climate and meticulous farming are nothing without the right grapes. In North Canterbury, Pinot Noir has turned out to be the perfect vehicle for showing off the region's amazing potential.
The relatively cool climate, and the particular mix of clay and limestone soils make the best parts of the region a Southern Hemisphere mirror of the spiritual home of pinot noir in Burgundy. Smaller, more hands-on vineyards also suit a crop such as pinot noir, referred to by some as "the heartbreak grape" because it is complicated and fickle, as well as seductive.
Outstanding examples of pinot noir from North Canterbury are more restrained in terms of fruitiness than styles popular both in New Zealand (like Marlborough and Central Otago) as well as in other new world regions like Australia.
The most prized pinot noirs in the world place very little emphasis on the varietal or fruit character of the grape itself. The quality most valued, especially among fans of Burgundy, is its ability express the subtle differences between the places it was grown. 
With its unique geology, and a growing farming culture that places great value on that dirt, North Canterbury has the source material for a compelling and regionally specific story.
These soils give texture, minerality and concentration to the wines of this sub-region.
Visit our WINES page to have a fun virtual tasting experience. A carousel showing the various aromas identified in our wines will help you select
our wines for the best food wine experience.
Can you name any of these aromas in our wines using these visual clues?

A selection of our wines, made with enormous attention to detail in both the vineyard and the winery, and lots of love.
2017 Fancrest Estate Pinot Noir
Vibrant, chalky and herbaceous. This zero addition Pinot Noir delivers a pure expression of the site; raspberry, cherry and dark herbs lead a vibrant core alongside floral and chalky minerals. Captivating acidity and fine tannin extraction reveal a sense of place. 
2020 Fancrest Estate Pinot Noir Rosé
Energetic, citrus and crisp. A reflective of the growing season and a raw expression of Pinot Noir Rosé, with a core of citrus, stone fruit and minerals, flows on a vibrant acid line. Fine-textured and crisp finish.
2015 Fancrest Estate Reserve Pinot Noir
Generous flavours of red tree fruits and a soft mid-palate redolent of blackberry. The finish is long and satisfying with hints of vanilla. 
Find out more in our Blog!​
We blog to try to explain a little of what we do and why we do it. We do hope it answers some of your questions.